Context
Ad agency TBWA Berlin was creating an Advent calendar Facebook App for McCafé. Each day you could open a new window and find a digital present.
Problem
No custom tailored presents were available. If two users opened a door on the same day they'd find exactly the same media inside.
Inspiration
John Maeda is a renowned artist and designer known for his groundbreaking work in generative art. His collaboration with Shiseido resulted in a series of mesmerizing digital artworks that explored the interplay of light, color, and form. These artworks showcased Maeda's mastery of generative algorithms and his ability to create strikingly beautiful visuals that transcend traditional artistic boundaries.
Solution
I came up with the idea to provide each user a custom snowflake. Each user that opened one specific door received a custom snowflake that no other user had. It was generated by a script I wrote in Processing. The shape variations and colors were endless: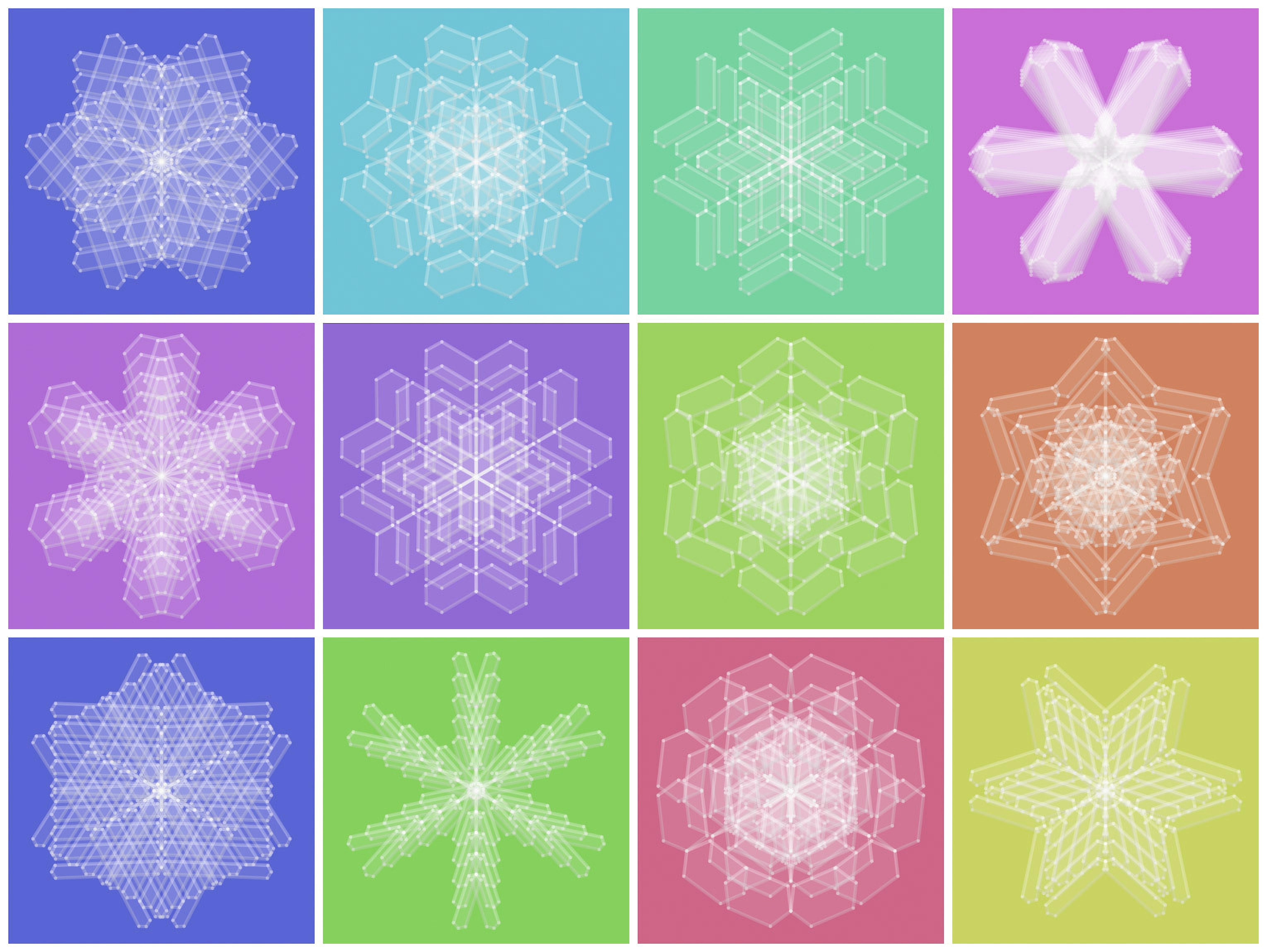 About McCafé
McCafé is a chain of coffee shops owned and operated by McDonald's, one of the world's largest fast food chains. McCafé offers a variety of hot and cold beverages, including coffee, tea, and specialty drinks, as well as a selection of pastries and snacks.
They have become a popular destination for coffee lovers who appreciate the convenience and affordability of McDonald's, combined with the quality of a coffee shop similar to Starbuck. With locations in over 30 countries, McCafé has become a global brand with a loyal following.
In addition to their coffee shops, they also offers a line of packaged coffee beans and K-Cups for home brewing. This allows customers to enjoy the taste in the comfort of their own homes.
About TBWA
TBWA is a global advertising agency that specializes in creating innovative and effective advertising campaigns for a variety of clients. The agency was founded in 1970 in Paris, France, and has since grown to become one of the world's leading advertising agencies, with offices in over 80 countries.
TBWA's success can be attributed to its focus on creativity and innovation. The agency has a reputation for creating memorable and effective advertising campaigns that break through the clutter and capture the attention of consumers.
In addition to its advertising services, TBWA also offers a range of other marketing and communications services, including brand strategy, digital marketing, and public relations. This allows clients to benefit from TBWA's expertise in all aspects of marketing and communications.
TBWA has worked with a variety of high-profile clients, including Apple, Nissan, and Adidas, and has won numerous awards for its innovative and effective advertising campaigns. With its focus on creativity and innovation, TBWA continues to be a leader in the advertising industry, helping clients to connect with consumers in new and exciting ways.